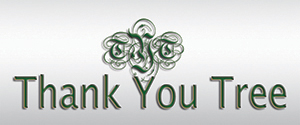 Trees oxygenate the air we breathe therefore planting a special tree is a postive action to say 'Thank You' to our environment for supporting us through our past, and with care will grow for many years to benefit current and future generations.
Commemorating monumental life events may include: birth, loss, commitment ceremonies, business or persoanl growth which may include overcoming Post Traumatic Experiences... bury the past trauma, plant a tree, nurture and watch your future grow ~ Post Traumatic Growth.
AS A GARDEN STYLIST I AM ABLE TO ASSIST YOU TO PURCHASE A SPECIAL TREE FOR YOUR
'THANK YOU TREE'
WE ARE ALSO A RETAIL SALES OUTLET FOR BIOS URN that is an environmentally friendly product that can be purchased for your own special needs or give as a unique gift with the intention of planting a 'THANK YOU TREE'

BIOS URN ~ are specially designed and manufactured for loved ones ashes but they can be used to commemorate many other monumental life events such as placenta planting or other items you believe offers you peace while giving back to earth and nurturing your future.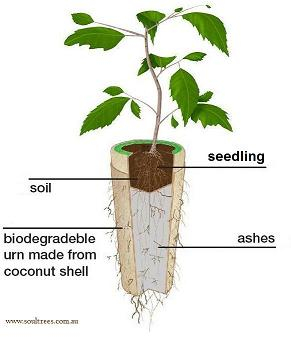 RRP $189.00 plus GST and Postage. Please contact us to arrange payment and delivery.
Online purchases will be available soon via this secure website.

SALT THERAPY AND UV SAUNA PORTABLE ROOMS. YOUR PERSONAL SALT THERAPY OR UV SAUNA SESSIONS ARE AVAILABLE.
(Central Victoria ~ Shepparton location)
Please note booking cost is $1.10 per minute with a 30 minute minimum to include setup etc.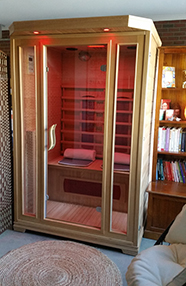 Please email your contact details to pre-arrange an appointment.

Portable Salt Therapy units incorporate a Unique Technology that provides Salt Aerosol which allows Purified Salt to permeate the deep recesses of the lungs.This allows a clearing of the airways of mucous and congestion. Through warm air convection the Salt Aerosol is moved through the unit in a way to encourage thorough uptake and utilization by your lungs.
The Salt Tiles embedded in the walls provide further "Salt Mist" and the much valued "Negative Ions" that also act at keeping the unit at constant humidity.
An additional Negative Ion generator is installed to round off the purity of this "Micro Climate".

An average sitting will be 25 minutes and you can enjoy reading a book with a few cushions, listen to some relaxation music, or set up the TV and watch your favorite TV show through the safety glass door.

Iif you would like to consider purchasing a new unique innovative salt therapy system for your personal home or clinical to expand your current wellbeing business please contact me to arrange an appointment.
EAR & BODY CANDLING ~ RELAX, UNWIND & ENJOY while you experiance a deep inner cleanse.
(Central Victoria ~ Shepparton location)
Ear and Body Candling therapy costs $88.00 per hour.

Please email your contact details to pre-arrange an appointment.
Trained and experienced to use 'Complete Health & Harmony' hand-made, TGA approved candles. They are based on Native American 'Hopi' Traditional Medicine.
Over the years I have had some amazing feed-back on how Ear and Body Candling treatments have helped people of all ages, gender and belief physically and emotionally.
Years of Ear & Body Candling experience has wittnessed family, friends and clients gain relief from:
Spider Bites, Blood Noses, Sinus, Tinnitus, Blood Clots, Viral Meningitis, Reduce swelling following sprains, helped ease menstrual pain as well as child birth recovery, aid surgery and dental work recovery.
GARDEN STYLIST~ PLANT SELECTION CONSULTATION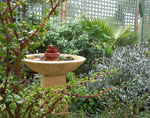 2 hour consultation usually allows enough time for you to receive a hand drawn design along with a list of plants suggested.
Fees commence at $120.00 including GST for an average suburban size property but will depend on required travel to property location. (Additional hourly costs maybe required for larger properties)
3D designs are available at additional costs.
No design drawings will be given until payment received. Official website www.gardenstylist.net.au
Helping you select plants that have your garden looking good all year.
As a Garden Stylist I specialise in helping you select plants that will complement your home and have your garden looking good all year whether it is:
~ new or you are renovating
~ small courtyard or large acreage
Plant Selection Consultations includes discussions regarding:
~ Plant structure, foliage colour and shape.
~ Consideration for the inclusion of Fruit trees and Herb gardens.
~ Low water use plants.
~ Low maintenance gardens.
~ Possible need for children's play areas, pergolas and garden sheds etc.
~ Lifestyle products that enhance your outdoor space eg Water features, Swimming Pools, BBQ's etc
MUSIC DOWN LOADS & HARD COPY CD PURCHASES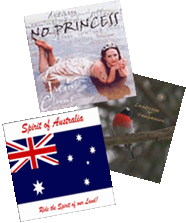 JACQUI CLUNE

Music is a universal language therefore we are pleased to share with you our music as we feel it expresses our life and business philosophy.
Jacqui Clune~ Singer/Songwriter official website www.jacquiclune.com
LEARNING ~ TIME TO MAKE A STAND 4 RESPECT
Holding respect and compassion for ourselves and others gives freedom to 'make the most of life in our own special way'.
Adult & School Audio/Visual Montages ~ Inquiry Learning Models.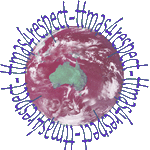 Official website @ www.ttmas4respect.com
SPIRITED EVENTS(Currently being re-vamped)